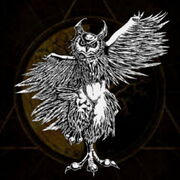 Spirit derives from Hispanic folklore.
Lalechuza means The Owl. This cryptid is either a shape-shifting witch or spirit that looks like a human-sized bird with a woman's face.
Tales of the Lalechuza are quite popular in Mexico and Texas, told to children as a warning. Stories of this owl-like creature can be traced back to the mid-1700s.
Many people believe it is purely a myth while those who've seen the La Lechuza swear she is real. It's been known to make a human-like whistling sound. If you answer it back with a whistle of your own, it will swoop down and carry you away.

Guardians protects its summoning location - intended for Places of Power and Portals.
Summoning ingredients requires: Malachite, San Pedro, and Black Candle