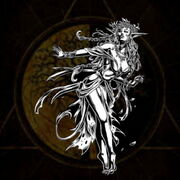 Spirit derives from Scandinavian folklore.
Her name derives from a rooted meaning "covered" or "secret".
She's desperate to lose her cow tail so marrying a Christian man will let that happen.
If she's betrayed or treated badly, she'll remind him she's not weak.

Forbiddens are very aggressive that can attack everything - including summoner and allies.
Summoning ingredients requires: Fox Fur