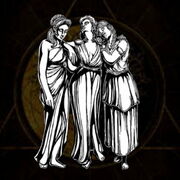 Spirit derives from Greek mythology.
Charites, or "Graces", were a group of minor deities: Algaea (splendor), Euphrosyne (mirth), and Thalia (good cheer) that were linked to the Underworld.
The Graces were all patrons of various pleasures in life and goddesses of charm, beauty, nature, human creativity, and fertility.
Healers blesses its summoner and allies.
Summoning ingredients requires: Floral Wreath