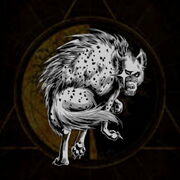 Spirit derives from Ethiopian folklore.
Buda is the power of the Evil Eye, which gives the unaware victim will cause misfortune or injury, and has the ability to change into a hyena.
Some Ethiopian Christians carry an amulet to ward off the ill effects of Buda.

Forbiddens are very aggressive that can attack everything - including summoner and allies.
Summoning ingredients requires: Broken Amulet