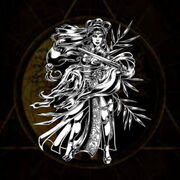 Spirit derives from Northeast China (Manchurian Mythology).
Hehe is "Mama" or "Woman".
Abka Hehe is the primordial goddess that forms a triad with two other Manchu spirits: Banamu Hehe (Earth Mother) and Ulden Hehe (Light Mother).
Everything comes from Abka Hehe (including the other two spirits to form a triad). Once the triad was formed, they created more spirits, people, and all living beings. She is the perfect example of all that is good as she stands guard of the entire universe. An invincible immortal spirit who defeats and banishes evil.
Assassins aggressively fights alongside its summoner.
Summoning ingredients requires: Cinnamon and Edamane.